BORN: 25 August 1975 in Poznan, POLAND
EDUCATION: University of Adam Mickiewicz in Poznan,
Faculty of Chemistry. Degree in 1999, paper on: "Photochemical reactions of 5'-halogenated uracil and uridine with aromatic amminoacids".
OCCUPATION: mainly origami
OTHER ACTIVITIES: history of chemistry
It all started with one book I got from my parents (just to keep me busy). Later I found few more models published in Poland. That was pure fun.
In 1995 I've started the co-operation with Polish-Japanese Association Poznan Branch (Mr Robert Szober) the organizers of Japanese Days in Poznan. They needed someone to show the Origami and I was the one.
1995-10-01 Exhibition of Origami - high school - Pila,
1996-04-01 Origami presentation and course - LO V - Poznań (honoured by the Ministry of Japanese embassy)
1996-04-08 Public TV Poznan - Japanese Day in PTV, decoration of the studio, interview,
1996-10-25 Japanese Evening of Wieniawski Violin Contest in Poznan - exhibition of origami and oribina, speech about Origami,
1997-01-19 "Origami school for children" in Carnival action - Centre of Culture "Zamek"- Poznan,
1997-04-05 "Origami" Exhibition of origami and oribina during the Japanese Days - Museum of H. Sienkiewicz, Poznan,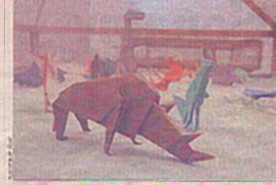 photo:P. Graf (Gazeta Wyborcza 97-04-09)
1997-05-18 "Origami" Exhibition of origami and oribina-Museum in Śrem,
1997-05-31 Origami presentation in Dabrowa,
1998-01-23 "Origami" Exhibition of origami and oribina-Museum in Belchatów,
1998- March and April - Origami models for kids Weekly in the newspaper GAZETA WYBORCZA. (my first origami published)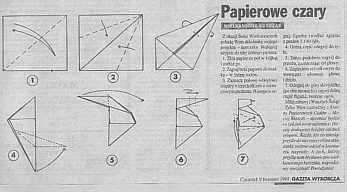 2000-05-15 "Oribina" Exhibition - Museum of H. Sienkiewicz, Poznan during the Japanese Days
2001-09 Exhibition during the Unprofesional Art Festival - Poznan
2002-05-29 - 06-20 Exhibition "Japanese Paper Dolls Hajime Watanabe/Maciej Błaszak - Museum of H. Sienkiewicz, Poznan, (check the photos from this exhibition) during the Japanese Days