Home
Up
Tricks
MAKING IT EASIER:
- before startind the doll choose the low neck style - low neck cut will make putting the head through a lot easier.
Some examples: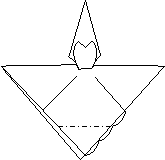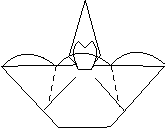 LAYER VISIBILITY:
- our effort of putting many layers on a doll should be seen (don't you agree?) - the best way to achieve it is to make the sleeves show all the layers - just fold back a few millimeters on each side - of course more and more with next layers.
PAPER TYPES AND ORNAMENTS
- make only the last outer layer with a textile pattern paper (saves a lot)
- there are origami papers with textile patterns available on the market.
- my trick is to look for the photos with original kimono patterns - scan it and than print the paper needed.

I'm thinking of placing here a library of traditional kimono patterns ready to use - if you have some e-mail them to be published here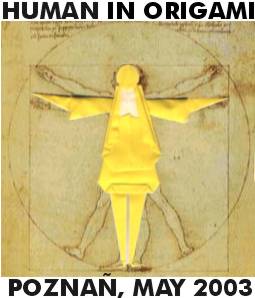 Poznan 2003
Show your origami.
------------
News
We are proud to announce, that Japanese Embassy in Warsaw, became an honorary parton of our exhibition
We finally have our logo. It'll propably change a bit - we are going to add the title in japanese. I hope You like it.
Thanks for all the applications for our next exhibition. There is still a lot of room to fill, so don't be shy show us your works.
LOOKING FOR LOGO.
We are looking for logo for our exhibition. If You have any idea please contact.
We'd be grateful for spreading the news about our project among the folders You know.
We'd like to ask all the origami organizations worldwide to publish a brief info about the exhibition in their newsletters. Thanks in advance.